The booster shots will be available at pharmacies first, then at health authority-run clinics after Sept. 19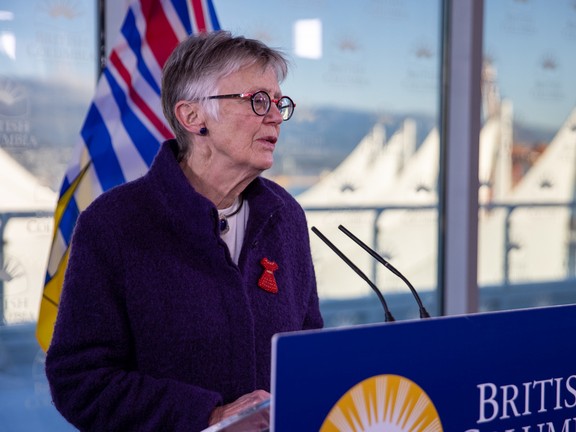 Article content
BC health officials on Tuesday urged British Columbians to get a booster during the fall rollout because of the uncertainty of how the COVID-19 pandemic will evolve in the coming months.
Article content
The province will eventually move out of the "emergency response" phase of the pandemic, but "we're not there yet," the provincial health officer said on Tuesday as BC announced how and when the new bivalent booster shot that targets the original COVID strain as well as the now-prevalent Omicron variant.
Article content
Dr. Bonnie Henry said there are "still a lot of transmissions globally" and "still a chance of new variants" emerging and it's therefore important that the 10 percent of the population without a first or second dose get vaccinated and the 1.3 million who have yet to receive their first booster do so.
She, Health Minister Adrian Dix and Dr. Penny Ballem, who oversees BC's vaccination rollout, provided details of the province's strategy to try to prevent a surge in serious illness and hospitalizations this fall.
Article content
Ballem said the province expects to deliver 250,000 to 280,000 doses a week, for about 10 weeks, starting later this month to about the end of November, through 1,100 pharmacies and health authority clinics.
But Henry said she wasn't mandating other preventive measures, such as the wearing of masks indoors, because by now people know they should be checking for proper ventilation and cleaning protocols while indoors, washing their hands and staying home if sick.
"We can trust people to do that and we don't need a heavy head of legal restrictions, in my opinion," she said.
More than 1.2 million doses of Moderna's new bivalent vaccine are set to arrive in BC this month. That supply could be boosted by another 517,000 doses if Health Canada approves the Pfizer bivalent vaccine, which is under review.
Article content
Everyone age five and older is eligible for a fall booster shot, although not everyone would be able to get the newly approved Moderna Spikevax bivalent booster, health officials said.
All adults, plus youth ages 12 to 17 with health conditions that put them at risk for more severe COVID-19 illness, will be offered the new bivalent vaccine.
Shipments are expected to arrive in BC this week and will ramp up later in the month. Once here, the booster shots will be immediately available at pharmacies, then at health authority-run clinics starting on Sept. 19.
Like previous campaigns, this booster program will be rolled out based on age to prioritize people who need the extra protection, said provincial health officials.
Article content
More than four million invitations will be sent out, with health care workers and at-risk groups — those who are over 60, people deemed clinically extremely vulnerable, Indigenous people, and people who live in congregate living settings — first in line.
Most others should expect to get their shot in October and November. Appointments can be booked online on the province's website Get Vaccinated system.
Based on guidelines from the federal National Advisory Committee on Immunization, the province recommends people wait until six months from their last COVID-19 shot, or three to six months from their last COVID-19 infection, before getting the booster.
Residents of long-term care facilities, seniors 65 and older, and the clinically extremely vulnerable are encouraged to get their boosters three months after their last shot.
Article content
The Moderna bivalent booster approved by Health Canada is directed at the BA.1 Omicron subvariant, unlike the vaccine authorized in the US which is tailored to the BA.4 and BA.5 subvariants currently circulating in the community. But health officials said studies show the approved vaccine gives enhanced protection against infection from all Omicron subvariants.
Starting early October once the first delivery of flu vaccines become available, the government will also offer flu shots to people at the same time as their COVID boosters.
More than 12 million doses of COVID-19 vaccines have been administered to British Columbians since the start of the pandemic.
More than 91 percent of British Columbians age 12 and older and 46.5 percent of children age five to 11 have received at least two doses of a COVID-19 vaccine. Vaccine uptake among the youngest group, six months to age four, is the lowest, with eight percent getting immunized.
Youth age 12 to 17 with no risk factors will be offered the original COVID-19 vaccine as their fall booster shot, while kids age five to 11 will receive the regular Pfizer pediatric vaccine.
chchan@postmedia.com
slazaruk@postmedia.com
COVID-19: Auditor General to investigate BC's vaccination coverage rates and how they are monitored

Strokes, blood clots, wheelchairs: BC patients describe rare reactions to COVID vaccines